Help 'Duk-gu',
the developer of LoveAlarm
"Jojo, is that you? How's Gul-mi doing? Can you do me a favour? I need your help to improve LoveAlarm app. Please ring your alarm at the locations I've set globally. It will give me a clue to solve the issue with the alarm, which hasn't been rining in some cases. I will invite you to Korea and fix your shield for helping me out. Thanks!

– Duk-gu.
You can now ring your 'LoveAlarm' from around the globe. We are about to designate new worldwide LoveAlarm experience locations. We will set the schedule on our application for each of the following countries and their locations.
You can be a part of it by simply downloading our LoveAlarm official mobile app. After you download the app, you should visit the designated LoveAlarm sites then you can find your hearts on the app as soon as you get to the location.
After you get your "heart(s)", please share the photo/video(s) of you and the app screen on your Facebook, Twitter or Instagram. Don't forget a hashtag "#LoveAlarm" when you post it. (Sample images below)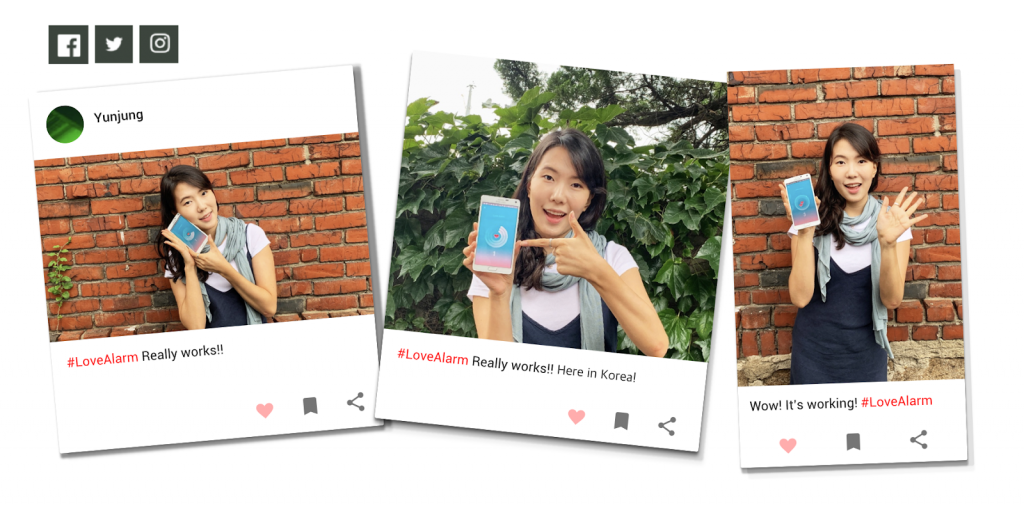 During the event, our developer, Duk-gu will give you a number of messages through the app. He is hoping to improve LoveAlarm system from the user reviews about this global event. Never miss the chance to ring your LoveAlarm with instant notifications.
[Date for location update: A list of countries] 
* There are several LoveAlarm locations for each country. You can check the locations of each site in the link below.
 'The time will be set at midnight GMT'
–
1 Oct 2019 ~: Chile
Cerro San Cristobal
Sky Costanera
Patio Bellavista
Cerro Santa Lucía
Costanera Center
–
1 Oct 2019 ~: Argentina

Teatro Colon
Parque Nacional Iguazú
Av. Río Iguazú & Av. Tres Fronteras Puerto Iguazú
Casa Rosada
Jardin Japones
–
2 Oct 2019 ~: Brazil
Pontão do Lago Sul
Catedral Metropolitana Nossa Senhora Aparecida
Memorial JK
Igreja Nossa Senhora de Fátima (Igrejinha)
Santuário São João Bosco
–
2 Oct 2019 ~: Peru
Miraflores District
Circuito Mágico del Agua
Plaza de Armas de Arequipa
Iglesia De La Compañia De Jesús
Plaza de Armas de Lima
–
3 Oct 2019 ~: Ecuador
Fundación Iglesia de la Compañia de Jesús
Hacienda La Danesa Lodge
Basilica del Voto Nacional
La Capilla Del Hombre
La Alameda Park
–
3 Oct 2019 ~: Colombia
Walled City of Cartagena
Mount Monserrate
Castillo de San Felipe de Barajas
Ciudad Perdida
Cristo Rey
–
4 Oct 2019 ~: Mexico
Chichen Itza
Quinta Avenida
Diego Rivera Mural Museum
Pabellon coreano
Playa Los Muertos pier
–
4 Oct 2019 ~: United States
Fountains of Bellagio, Las Vegas, NV
Circle Line Sightseeing Cruises, New York City, NY
Central Park, New York City, NY
Golden Gate Post Card Viewpoint, San Francisco, CA
Bayside Marketplace, Miami, FL
Millennium Park, Chicago, IL
Ocean Drive, Miami Beach, FL
Space Needle, Seattle, WA
Times Square, New York City, NY
Fenway Park, Boston, MA
–
5 Oct 2019 ~: Spain
Parque del Retiro
The Alhambra
Plaza de Espana
Mezquita Cathedral de Cordoba
Basilica of the Sagrada Familia
Casa Batllo
–
5 Oct 2019 ~: France
Abbaye du Mont-Saint-Michel
Basilique Notre Dame de Fourviere
Port Nice Carras
Pont Alexandre III
Eiffel Tower
–
6 Oct 2019 ~: Germany
English Garden, Munich
Reichstag Building
Cologne Cathedral
Marienplatz (Theatinerstraße)
Brandenburg Gate
–
6 Oct 2019 ~: Italy
Piazzale Michelangelo
Leaning Tower of Pisa
Basilica di San Pietro
Trevi Fountain
Piazza del Duomo, Milan
–
7 Oct 2019 ~: Turkey
Hagia Sophia Museum
Blue Mosque, Istanbul
Old City marina
Aspendos Ruins and Theater
Kordon Boyu Dinlenme Alanı
–
7 Oct 2019 ~: Russia
Peterhof Grand Palace
Red Square
Samara Embankment
Palace Square
Fountain Druzhba Narodov
–
8 Oct 2019 ~: Kazakhstan
Big Almaty Lake Ascension Cathedral Kok-Tobe Hill Nurzhol Boulevard Park of Lovers
–
8 Oct 2019 ~: Myanmar
Shwedagon Pagoda
Ananda Temple
Mwe Taw Kakku Pagodas Complex
Mandalay Hill
U Bein Bridge
–
8 Oct 2019 ~: Thailand
Wat Phra Chetuphon (Wat Pho)
Wat Arun Ratchavararam
Temple of the Emerald Buddha
Patong Beach
Thanon Bangla
–
9 Oct 2019 ~: Vietnam
Cua Dai Beach
Old Quarter
Cu Chi Tunnels
Tra Que Minty Garden
Saigon Central Post Office
–
9 Oct 2019 ~: Malaysia
Petronas Twin Towers – KLCC
Masjid Wilayah Persekutuan
Symphony Lake Water Show
Penang Street Art
River View Cafe
–
9 Oct 2019 ~: Indonesia
Sacred Monkey Forest Sanctuary
Tegalalang Rice Terrace
Samasta Lifestyle Village
Tanjung Tinggi Beach
Grand Indonesia Mall
–
10 Oct 2019 : Republic of Korea

Prize for Winners
Free flights and a hotel voucher for a 3-day trip to Jeju island in South Korea. Jeju island is known for its beautiful shooting places of Netflix original series "Love Alarm" (for 2 users posting social media content).


Tips for Users
* Make sure if you have the latest version of LoveAlarm (above 1.1.7).
* Please check your app permission whether your phone allows LoveAlarm app to access your location information. If you want to save your battery by enabling 'Battery Safe Mode', choose a basic option among the three that you can still have Wi-fi network and GPS.
* If any case the app doesn't give you a heart at the locations, please turn off the app and make it stop running in the background of your phone. And restart the app and check the screen.
*We are sorry about not including iPhone users. We are still working on our iPhone version of the LoveAlarm app.
Haven't experienced yet? Install LoveAlarm App. > Google play store Link
Thanks to our partners: Daum webtoon, Cocoasoft