Download LoveAlarm on your iPhone NOW!
You can download official LoveAlarm mobile application on your iPhone.
* Install APP: https://apps.apple.com/kr/app/lovealarm/id1487916909
Thanks to all of you longing to use our app.
To celebrate this release, we are giving away our unique badge item to all of our users without conditions.
You can find the special badge by checking 'MY'page of the app.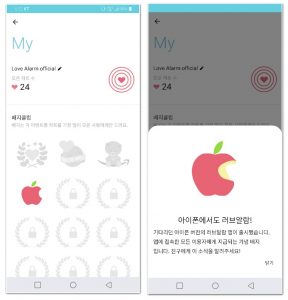 LoveAlarm is intended to entertain the fans of Love Alarm around the world.
Users can participate in many special events and get several badge items.
The design of the application is similar to the one used in the Netflix original series. One thing different from the Love Alarm is that you are able to fill up the empty heart on your screen by completing a given task that allows you to reach to the goal, which is to become a member of the BadgeClub at the end of your journey. 
We hope you can find yourself getting to know the characters in Love Alarm more. 

Key Features 
– Collect 'Heart' points and 'Badge' items from LoveAlarm promotional events
(We will give you an announcement through the app push messages and this notice board) 
– Get information about the original webtoon, eBooks and Netflix series.